WEATHERSEALS

We offer a unique selection of the world's finest weatherseals, including the most complete stocking program of silicone rubber seals in North America. We only supply products with superior performance and durability: products that meet the exacting requirements of the most demanding European and North American custom window and doormakers. Our seals stay flexible at low temperatures, survive long-term sunlight exposure, and withstand repeated flexing. Many are interchangeable, so you can switch shapes, colors, and even materials at any time without modifying the groove or mounting channel. Most can be inconspicuously milled into woodwork, making them ideal for custom door and window fabrication and historical restoration. Surface-mounted seals use sturdy aluminum extrusions that are easily attached with concealed fasteners and clips and are protected with quality finishes to withstand decades of severe exposure. Following is some general guidance for selecting the best weatherseal for each application:
SHAPE: We offer weatherseals in five basic shapes:
• Tubeseals are round in cross-section and must be partially flattened to make an effective seal. They can produce excellent results if the compressed size can be kept within a very narrow range (typically 65% to 85% of the uncompressed height); additional compression can be very difficult and may cause rolling and binding on the hinge side of windows and doors.

• Flipperseals are open in cross-section and have a flap or flipper that makes the seal. They are ideal general-purpose seals because they are effective over a wider range of gaps (typically 50% to 85% of the uncompressed height) and require much less closing pressure than comparably sized tubeseals.

  

tubeseals

  

flipperseals

  

leafseals

sweepseals

  

brushseals
•
Leafseals
are plastic flipperseals thin enough to flex and seal over an even wider range of gaps (typically 25% to 85% of the uncompressed height).
• Sweepseals are straight fins designed to bend with lateral motion, such as that occurring when a door bottom closes over a threshold. For optimal performance, they should just barely make contact with the opposing surface, since excessive bending can lead to binding and tearing when the direction of motion is reversed.
• Brushseals are sweepseals made of a mass of bristles instead of one or two fins, and are optimal for sealing irregular surfaces.
MATERIAL: For compression seals, such as jamb seals on hinged windows and doors, silicone rubber is the best choice. Although more expensive than other rubber and plastic elastomers, silicone is unbeatable for compression-set resistance, low temperature elasticity, longevity, and color quality. Note that not all silicone formulations are equivalent: we use a very high grade with significantly better properties than cheaper formulations that are often loaded with fillers. Where silicone is unaffordable, we can also provide compression seals made of a plastic-skinned urethane foam which offers good compression-set and low temperature performance at a significantly lower cost.


                      

                

silicone



                

polypropylene

urethane

    

nylon
For sliding seals, such as the jamb seals in double-hung windows, silicone has too much friction and will grab and tear, so slippery plastics made of polypropylene (and similar polymers) or nylon are a better choice. These plastics can be supplied as bristle brushes or thin solid shapes, depending on the application. As with silicones, not all formulations of these plastics are equivalent: we use special grades that have optimal durability and compression-set resistance.
For sweeping seals, such as the bottom of doors, both silicone and plastics may work. If the threshold is smooth and flat, silicone sweeps will be durable and will seal both rain and water effectively. Rough or uneven thresholds made of stone, brick, tile, concrete, or worn wood can be sealed more effectively with nylon brushes.

SIZE: For a given shape, the largest seal offers the widest range of effective sealing. For example, if a flipperseal is effective for 50% to 85% compression, then a 1/4" high seal is effective from 1/8" to 7/32" (a range of 3/32") and a 1/2" high flipperseal is effective from 1/4" to 7/16" (a range of 3/16", or twice the range of the smaller seal). On the other hand, larger shapes are more visible and more expensive, so choose the largest seal feasible within the aesthetic and economic limits of the application.
COLOR: Silicone weatherseals are available in black, bronze (dark brown), brown (medium brown), gray (medium gray), and white. Not all silicone shapes are available in all colors. Urethane foam flipperseals are available in black, bronze (dark brown), and white. Leafseals are available in black, tan, gray (light gray), and white. Polyester brushes are available in black, gray (light gray), white. Nylon brushes are only available in black.
| | | | | | |
| --- | --- | --- | --- | --- | --- |
| silicone   | black | bronze | brown | gray | white |
| polypropylene   | black | tan | gray | white | |
| aluminum   | brass | pewter | white | | |
| urethane   | black | bronze | white | | |
| nylon   | black | | | | |
Aluminum channel is available in brass (antique brass), pewter (dull gray), white (off-white), and mill (shiny unfinished aluminum). All aluminum finishes are either anodized finishes or polyester powder coatings for long-term durability: we don't use cheaper baked enamels. However, since these are surface finishes, cut ends will expose bare metal. (NOTE: Since each monitor displays colors differently, the colors above should only be used to get an idea of the general color range.)
LOCATION: Whenever possible, position weatherseals so that they seal to the face of the window or door. As windows or doors expand and contract with temperature and humidity, edge seals may become loose enough to leak air or tight enough to cause binding. Corner seals are an improvement, but face seals are almost totally unaffected by seasonal movement.
Edge seals are least effective because edge gaps open and close
as wood expands and contracts seasonally in the direction of the arrows.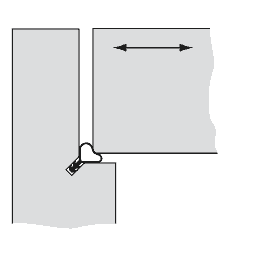 Corner seals are better because they seal to both the edge and face
and can maintain the face seal unless there is significant movement.
Face seals are optimal because face gaps remain constant even
when there is significant expansion and contraction.

installation tools
TOOLS: To a contractor in the field or a small custom woodworking shop, ease of installation can be just as important as performance and durability. Using our seals and a few inexpensive tools, any contractor or custom millwork shop can obtain seals that are better than those obtained by major window and door manufacturers. Our custom router bits cut perfect grooves without the need for a guide fence, even in rabbeted jamb stock, with any woodworking router. Our affordable Cornerseal System makes quick work of on-site retrofits.