AIR-VAPOR CONTROL FILMS

Air-vapor control films are widely used to block the movement of air, vapor, and soil gases through the walls, roofs, and floors of buildings. Unfortunately, building science research in the Scandinavian countries has confirmed what many builders have always suspected: ordinary polyethylene films can deteriorate in a relatively short time, even when sealed within a wall or buried under a concrete floor. Such failures can result in higher energy costs, drafty interior spaces, elevated radon levels, and serious moisture problems.
Our Swedish-made Tenoarm polyethylene film is designed to last the life of any building and complies with Swedish government building standards which require use of properly stabilized virgin resins. Tenoarm is resistant both to oxidation, the principal cause of polyethylene failure in walls, and to alkali attack, the principal cause of polyethylene failure under concrete slabs. It has also been tested to be compatible with pressure-treated wood foundations. Performance is continually tested with a six-month oven-ageing test, the recognized standard for predicting long-term performance in real-world conditions.

Tenoarm is eight mils thick, so it is strong enough to withstand construction abuse as well as severe wind stress. Since it is made from impurity-free virgin resins, it is also extremely flexible and easier to install than many thinner films. Tenoarm is transparent to simplify installation, but unlike most other clear construction films, is stabilized against UV exposure during construction. We stock four convenient widths: 4'6" x 164', 9' x 100', 12' x 100', and 16' x 100'. The 9' size has a unique fold system for quick installation on walls. For quality assurance during construction, the name Tenoarm is imprinted on the sheet.

We recommend that all seams and edges be sealed with Teno Tape, Teno Sealant, or our EPDM building gaskets. Teno Tape, a tacky rubber double-stick tape supplied in 3/4" x 132 ft rolls, is best for general-purpose seaming provided there is a firm surface behind the seam so pressure can be applied to the tape. Teno Sealant, a mastic supplied in 11 oz. tubes, is more appropriate for irregular sealing around penetrations, or for seaming where there is no firm backup. Building gaskets offer the least expensive and most reliable method to seal the plastic to other materials such as wood or concrete: see Building Gaskets for details. We do not recommend the use of construction tapes, caulks, or acoustical sealant in contact with any quality polyethylene since these can cause premature deterioration and are often short-lived.
INSTALLATION TECHNIQUES FOR WOOD FRAME CONSTRUCTION: Since Tenoarm is strong enough to resist wind pressures and durable enough to last indefinitely, it can serve both as an air barrier and as a vapor-diffusion retarder in wood frame construction. The following illustrations show how to apply Tenoarm to the interior of the insulated walls, floors, and ceilings of buildings in cold climates. The use of interior plastic films is not recommended in hot humid climates and should be evaluated on a case-by-case basis in mixed climates with cold winters and hot summers.
Before installing Tenoarm, insulate walls and ceilings with unfaced insulation batts or spray-applied insulation, completely filling the stud and joist bays. Then staple BG32 gasket (see Building Gaskets) along the bottom plate and the upper top plate of insulated walls, along both edges of the upper top plates of interior walls that join insulated ceilings, and along both edges of the end studs of interior walls that join insulated walls. When the drywall is screwed in place, it will compress the gaskets to make an air seal between the plastic and the wood, blocking air flow between the interior and exterior as well as between adjacent wall or ceiling cavities. The bottom plate of the exterior walls should also be sealed to the subfloor to prevent air movement under the walls: this is best accomplished by installing BG63 or BG65 gaskets as the walls are erected, but can also be accomplished by caulking with polyurethane caulk after the walls are in place.
Since seams must always be made over a gasketed stud, the first wall must be one with a gasketed end stud. Staple Tenoarm to the first wall, overlapping the gaskets on the top plate, bottom plate, and end stud. If desired, several walls can be covered with a single sheet of plastic to reduce the number of seams.
Staple Tenoarm to the second wall, overlapping the plastic on the first wall.
Where Tenoarm covers a window, carefully cut out a rectangle of plastic a few inches smaller than the window frame. Make four slits at the corners of the hole and tuck the plastic into the spaces outside the window jambs. Stuff fiberglass insulation into these spaces and then insert either a BG44 gasket (for 1/4" to 1/2" gaps), BG46 gasket (for 3/8" to 3/4" gaps), or BG48 gasket (for 5/8" to 1" gaps) to lock in the plastic and make an air seal. This system eliminates the need for additional sealing around windows. Gaskets are far more reliable than spray foams or caulks since they will last indefinitely, they won't take a "set", and they will absorb building movement without transferring any stresses to the window.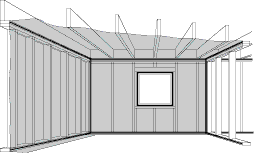 Cut a 12' wide or 16' wide roll of Tenoarm for the ceiling, allowing at least 6" excess on all sides, and staple it in place (inexperienced installers will find the 4'7" or 9'2" rolls much easier to install overhead). Avoid construction damage by applying the interior wall finish (drywall, wood) as soon as possible. Just before the finish floor surface is installed, complete the plastic installation by cutting from the widest practical roll of Tenoarm (16' maximum) and then stapling the sheet to the floor. There is no need to lap this plastic up the wall, since there should be plenty of excess wall plastic on the floor for a suitable overlap.
PRICING:
Tenoarm Film, 8 mil x 4'6" x 164' - $68.00
Tenoarm Film, 8 mil x 9' x 100' - $80.00
Tenoarm Film, 8 mil x 12' x 100' - $112.00
Tenoarm Film, 8 mil x 16' x 100' - $144.00
Teno Tape, 132' - $36.00
Teno Sealant - $8.80